Ted Selly is the mysterious person that everyone is looking for in Dinkum. However, only a few are able to find him. He is a super useful person that you definitely need to meet because he can make you do things that nobody else can.
In this guide, I will tell you how and where you can find Ted Selly along with all the things he can do for you and what you should know before meeting him.
Dinkum: Where to Find Ted Selly
Ted Selly only comes to your island in any weather and not only rainy weather unlike popular belief. However, the location of Ted Selly is random and you will have to explore the whole map to see where he is. However, there are a few tips that you can follow to increase your chances of meeting Ted Selly.
Tip 1: Whistle Sound
Whenever you hear a whistling sound, stop in your tracks and search for Ted Selly as he is nearby. Ted Selly whistles to signal you that he is there. He won't be hiding, but if you are in a vehicle, he can be easy to miss.
Tip 2: Use Helicopter or Glider
You should use a Helicopter or Glider as they are super fast and can help you cover the map faster compared to other vehicles. Also, it isn't recommended to use water vehicles as Ted Selly only appears on land. Hence, the only area you will be able to cover using a boat is the edges of the islands.
Tip 3: Weather
There isn't any guarantee when you will meet Ted Selly and the weather doesn't play any role in his appearance. There are reports of people finding him all weathers like rainy, windy, sunny etc. Whatever the case is you are guaranteed to find Ted Selly if you hear a whistle.
Advantages of Meeting Ted Selly
Like every other character in Dinkum, Ted Selly provides unique benefits. Here is what Ted Selly can do for you:
1. Buy Hunted Items
Ted Selly will buy hunted items for a better price than John from you. He can buy captured animals, raw meat, and cooked meat. The captured animals include bugs and fish. He doesn't buy fruits or vegetables from you.
Ted Selly gives you 33.4% extra Dinks for hunted items as compared to John. Hence, it is a wise choice to save these items for Ted if you want to sell them.
2. Craft Hunting Items
Ted Selly can craft you special hunting items that you can not find anywhere else in the game. Here is the list of the items Ted can make you:
Battle Shovel (16 Damage)
Bone Bow (15 Damage)
Bone Arrow
Croco Berley Box
Devil Berley Box
Shark Berley Box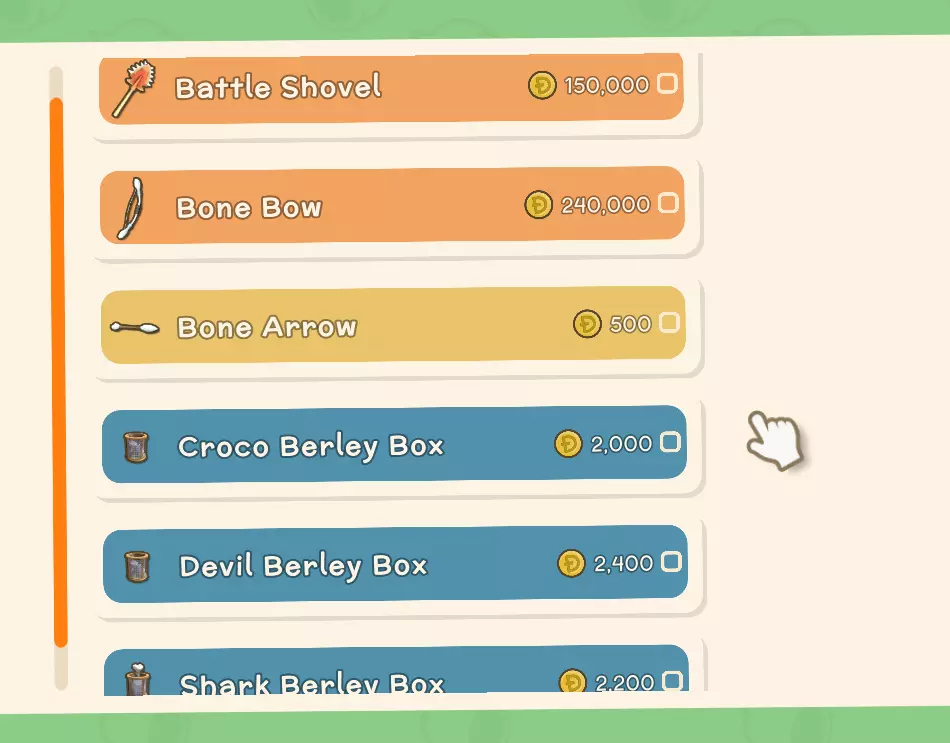 The Battle Shovel is a close-range weapon that is a bit slower than a Flaming Bat but has double its damage. A Bone Bow is a long-range weapon that is similar to a Slingshot but requires Bone arrows.
The Berley boxes are lures for Croco, Devil, and Shark that Ted Selly can make for you.
Things to Know Before Meeting Ted Selly
Finding Ted Selly is no easy task and many players with over 80 hours have encountered him once. Hence, you need to be prepared before meeting Ted Selly. Here are the things you need to know before meeting Ted Selly:
1. Meet the Item Requirements Before Meeting Ted Selly
You need to meet the item requirements before you meet Ted Selly because the items he requires are also uncommon like feathers. Hence, if you want him to make you anything, you should be prepared. Here are the item requirements of each item Ted Selly can craft for you:
Battle Shovel (150,000 Dinks): Shovel 1x, Spinifex Resin 2x, Crocodile Tooth 8x, Copper Bar 5x
Bone Bow (240,000 Dinks): Slingshot 1x, Bone 20x, Iron Bar 2x, Copper Bar 2x
Bone Arrow 4x (500 Dinks): Bone 2x, Mangrove Stick 2x, Feather 2x
Croco Berley Box (2,000 Dinks): Gum Log 2x, Copper Ore 4x, Raw Drumstick 3x, Spinifex Resin 2x
Devil Berley Box (2,400 Dinks): Hard Wood Log 2x, Copper Ore 2x, Meat 3x, Spinifex Resin 2x
Shark Berley Box (2,200 Dinks): Palm Wood 2x, Copper Ore 4x, Raw Giant Drumstick 1x, Spinifex Resin 2x
2. Ted Selly Won't Become a Permanent Resident
Ted Selly, as he states himself, is a Nomad. He likes to move from place to place and no matter how many tasks you do for him, he won't move to your island and become a permanent resident.