Looking to spice your messenger chat up with special, hidden, emojis with sound effects and more? Well, worry not as we have created the list of the best messenger emoji effects that you can get in 2021! We also have bonus tips and tricks for your Facebook chat emojis that will amaze you and your friends.
Read More: How to send blank messages on Messenger and Instagram
Complete List of Messenger Emoji Effects withTips & Tricks
Soundmojis: Messenger Emojis with that make sounds!
More than 2.4 billion emoji-laden conversations are exchanged on Messenger every day. We depend on Messenger emoji effects to express ourselves when we don't have the vocabulary to do so in real life. What would it sound like if your emojis could talk? Soundmojis is Messenger's newest expressive feature. Your talks have become a lot louder!
In a Messenger discussion, you may share brief sound clips like clapping, crickets, drumrolls, and wicked laughing, as well as audio snippets from your favorite musicians, TV programs, and movies like F9, Brooklyn Nine-Nine, Netflix and Shondaland's Bridgerton, and Universal Pictures' F9. As if to say, "Oh, the drama!"
Here is how you can use the Soundmojis in Messenger:
Start a conversation on Messenger, access the expressions menu by tapping the smiley face
Pick the loudspeaker icon to hear what Soundmojis sound like. The Soundmojis may be previewed from this location.
Soundmoji is unveiling a full collection of sound effects and iconic sound bites for you to pick from, which will get added to the library. In line with the visual emojis that we all adore, each sound is represented by an emoji. The best of both worlds!
Custom Word Effect
When someone uses a certain word or phrase in a chat, users on Facebook may now create custom "word effects" that automatically activate. With these effects, the selected emoji seems to climb from the screen's bottom. It's possible to build an emoji effect for a phrase, such as "I love you," and match this phrase with the heart eyes emoji so that whenever this phrase is used in a discussion, the heart eyes emoji will pop up from the bottom. Each word will get a distinct impact.
Using the Messenger From the Facebook app, we'll teach you how to add word effects:
In order to begin customizing a discussion, open it by tapping on the conversation's name at the top of the screen.
Select Word Effects which is the second option.
Add the emoji to the phrase or term you desire.
To the left of the text input area, tap the happy face symbol.
Add an emoji to the word or phrase by tapping on the emoji icon.
The word effect is created by tapping the up arrow to the right of the text-entry field.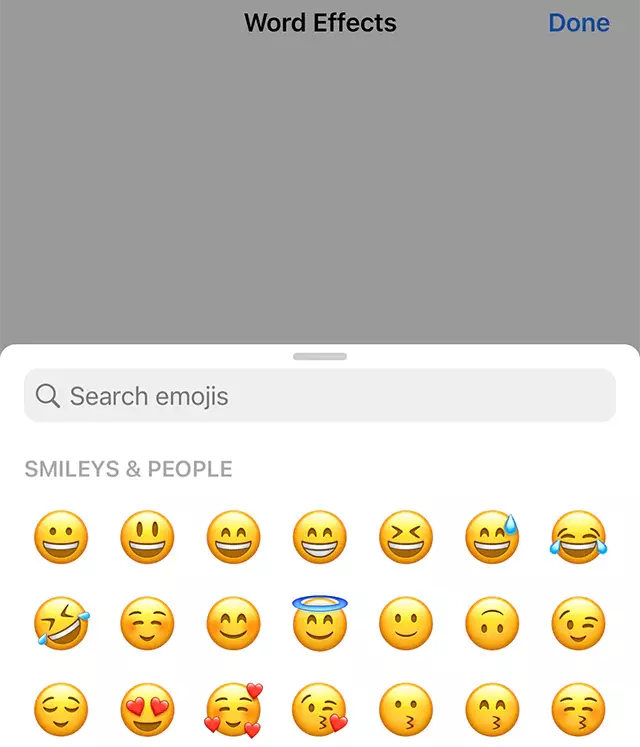 For different messenger emoji effects, you may repeat theis process. The maximum number of word effects you may have is 50.
Facebook Emoji Animations in Messages
On Facebook Messenger, you may send messages that have animations.
You can now add special effects to your replies and new messages in Facebook Messenger. These animations include gift boxes, fire, and more. Here is how you can have Facebook emoji animations in Messenger:
Open a conversation in the Facebook Messenger app.
Tap the emoji symbol next to the text field to add an emoji to your message.
This is the third and last step. Effects, Stickers, GIFS, and Emoji are all available here. Go to the Effects menu and click on it.
It's time to pick from four possible effects. You may choose any one of them and be done.
It was a brief lesson on how to use Facebook Messenger to send messages with effects. If you want your Messenger messages to stand out from the crowd then use these Facebook Messenger emoji special effects.
Bonus Emoji Tips & Tricks
Change the size of the Like or Thu
The Like or thumbs up button may be found next to the text box in the Messenger. Messages usually may be sent by pressing the button once. The clever technique, however, is concealed behind this emoji. When you press and hold the "Like" button, you'll notice that it grows in size.
Replace the Like Emoji
The Like button isn't used as often as it should be. Alternatively, you may use an emoji of your own liking. You can set different emojis for each person which means the set emoji doesn't transfer to all chats. 
In order to modify the emoji, open the chat thread and press the ringed I symbol at the top-right corner of the screen 
Select your preferred emoji from the available emojis by tapping on the Emoji option. 
To see more emojis, you must swipe left.
Select the Emoji and it will automatically be set.
Who would have guessed that emojis might hide hidden games? You'll never know what to expect with Facebook Messenger.
The basketball and soccer emojis seem to be conventional emojis when they are used. You'll be startled if you touch on them again after you've sent them. They open up a new game and also save your high scores.
Set Emoji Colors
Facebook Messenger, in contrast to WhatsApp, allows you to choose the color of each emoji separately. Your selection will be used for all emojis, regardless of what other colors they have. We think this is better than having different hues.
To change the color of an emoji, do the following:
To begin, open Messenger and choose the profile image icon in the upper-right corner of the screen. 
Select Photos & Media from the drop-down menu.
Select an emoji color from the Emoji menu.
We hope you liked all these tips and tricks that were present in Messenger. Facebook is trying to keep adding new features to make your chat experience fun and interesting. Let us know in the comments if there are any tricks we missed and what messenger emoji effects you liked the most.