Saints Row 2022 Reboot brings us many vehicles, and one of these is a hidden Go-Kart known as Shifty that you can find in a specific location. All cars in Saints Row are great, but Shifty one ranks among the top ten fun ones.
You can get Shifty the Go-Kart at the start of the game like many other vehicles in Saints Row which is a bonus.
Go-Kart Shifty
The Go-Kart Shifty is a drivable vehicle in Saints Row that can be found in El Dorado. This car has Kneecappers as its special ability. 
How to Permanently Unlock Go-Kart Shifty in Saints Row
Here is a step-by-step guide on how to unlock Shifty the Go-Kart in Saints Row:
Go to El Dorado
Go to the Go-Kart Racing Track (A place with a circular track on the map).
Head to the race track near the garage. 
Get into the Shifty Go-Kart to drive it.
Drive Shifty back to your garage.
Once you enter the garage with the Go-Kart you will have unlocked it permanently.
TLDR
The Go-Kart Shifty is located only on the racing track, which can be found in the El Dorado area. You have to drive it back to the garage to unlock it.
Go-Kart Shifty Performance Stats
Max Speed: 42 OUT OF 100
Performance: 40 OUT OF 100
Durability: 34 OUT OF 100
Off-Road: 92 OUT OF 100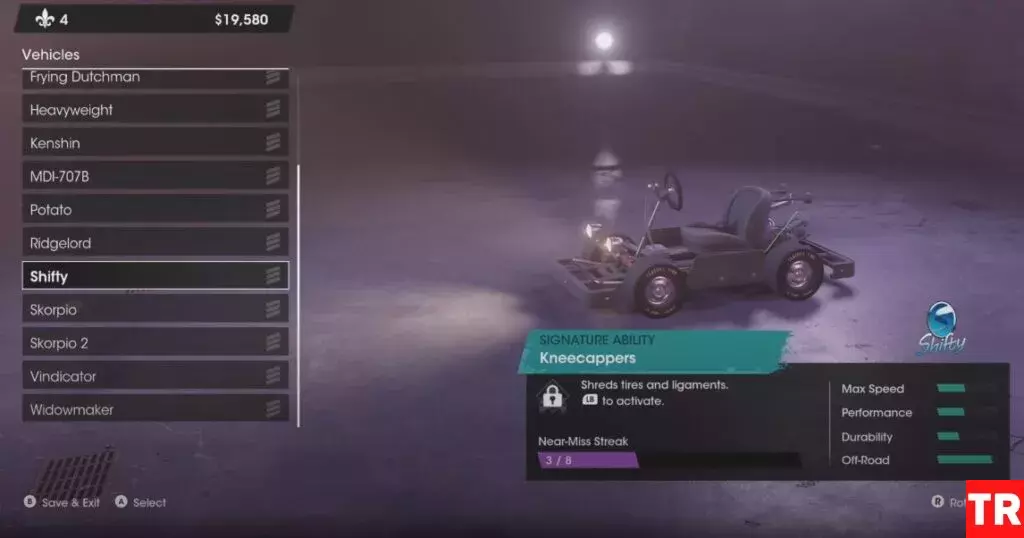 Shifty Signature Ability
In Saints Row the signature ability of the Go-Kart Shifty is Kneecappers. It can shred tires and ligaments on your command. It is a fun ability to use and is not found in other vehicles.
That's all; now release your inner child and go launch your own go-kart across the streets.