Snoop Dogg avatar NFTs have arrived on The Sandbox, which is wonderful news for both Snoop Dogg and The Sandbox fans! The Snoop Dogg NFTs sold out quite fast and people can't buy them directly. But don't worry as we will tell you how you can buy Snoop Doggies and know all their uses.
At 10 p.m. UTC on February 22, the rapper's 10K collection was released in the metaverse game. To celebrate the release of 10,000 Snoop Dogg adobe avatars, the Doggies have been created. Voxelized NFTs were created using over 150 attributes. If you've ever wanted to join the metaverse, now is your opportunity.
Avatars will be playable characters in The Sandbox Alpha Season 2, which will be released in the near future. If you want to attend a concert, play a game or make a new acquaintance using these avatars, you may do so. Each of these Snoop Dogg NFTs will set you back 150 SAND.
Types and rarity of Snoop Dogg NFTs
The Doggies are much like every other NFT collection, with distinct sorts and variable rarities. NFTs are more common when a trait's prevalence is low. Snoop Dogg NFTs come in seven varieties at the outset. Some examples of these are Blue (human), Golden (robot), Zombie (zombie), Dogg (dog), and Robot (robot). Humans are the most prevalent, whereas Goldens are quite uncommon. In terms of how rare they are, they are as follows:
Human – 63%
Blue – 11%
Alien – 10%
Zombie – 7% 
Dogg – 5% 
Robot – 3% 
Golden – 1%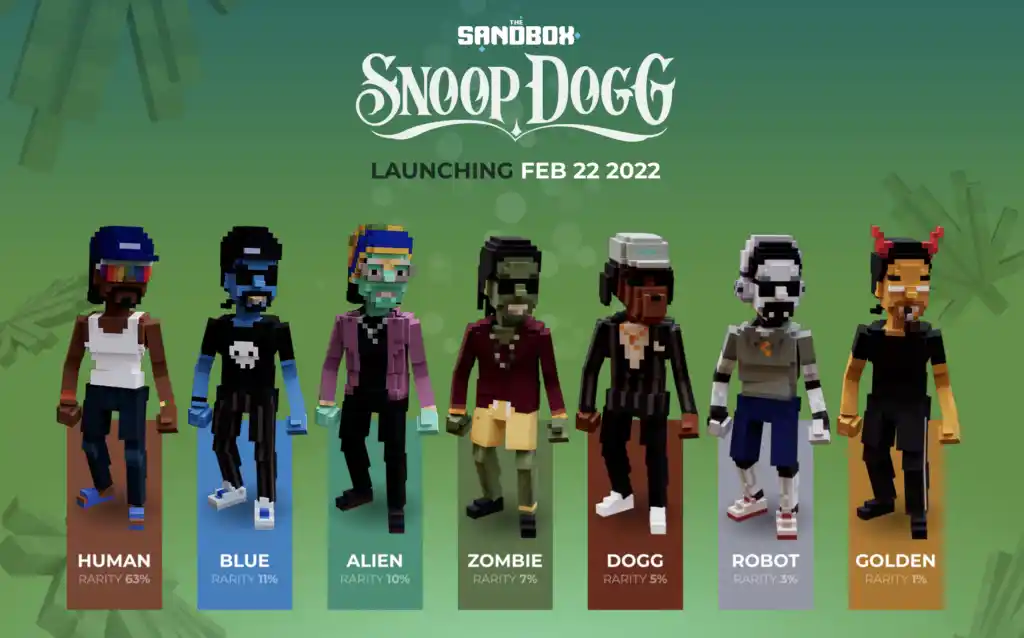 Additionally, there are more than ten one-of-a-kinds, handmade avatars available for a select few collectors only. First and foremost, there are the Dope Doggies, custom-made avatars created by The Sandbox and Snoop Dogg! Classic Doggies is the next item on the list. These characters are based on some of Snoop Dogg's most memorable songs. Signature Doggies, on the other hand, are the result of collaborations between The Sandbox and a select group of the metaverse's most talented artists. In addition, various avatar NFTs will appear in a Snoop Dogg music video that was shot entirely in The Sandbox, including the Doggies.
Read More: Play-to-earn NFT Blockchain Universe
Those that were selected to be on the drop's whitelist were permitted to mint NFTs 24 hours before the general public could get their hands on them. However, access to the whitelist was restricted to individuals with a predetermined set of Snoop NFTs. It was not uncommon for NFTs to contain the following: Early Access to Snoopverse; Party Pass for Snoopverse; JADU Jetpack and JADU Hoverboard; FLUF Snoop Dogg Burrow; and Rumble Kong League. Added to the whitelist were 200 SupDucks wallets that were hand-picked from their Discord channel.
How to buy Snoop Dogg NFTs
Snoop Dogg NFTs got released on 22 Feb 2022 and were sold out fast. Here is how you can buy Snoop Dogg NFTs (Doggies):
Go to OpenSea.
Head over to The Doggies (Snoop Dogg) page.
Click on any avatar you want.
Place your bid and wait for the auction time to end.
At the end of the auction, the highest bidder gets the Doggies.
You need to have a wallet like MetaMask, Coinbase wallet, or any other to buy Snoop Dogg NFTs.
What Can You Do with Digital Snoop Doggies?
More than 10,000 metaverse-ready Avatars, all usable in The Sandbox at the same time. Snoop Dogg personally handpicked over 150+ qualities for each Doggy. It is possible to get a playable The Sandbox avatar right now, and also planned metaverse features, by purchasing a Doggy.