Gartic Phone game is an all-new trending game that streamers from all over the world are playing. Like massively popular games like Among Us and Fall guys, Gartic Phone is played with a group of friends.
What is the Gartic Phone Game?
Gartic Phone Game is a fun new online game that combines Pictionary with the Telephone game (in which you whisper into the next person's ear and compare the original sentence to what was said). This game is the visual equivalent of that: you sketch what you saw and then guess what you saw!
Also known as Gartic io, the game alternates between sketching a word/words and guessing what those drawings represent. The game is passed around the group until we can compare the original words to what we ended up with. The online Telephone Game Gartic Game is completely free to play!
How to Play Gartic Phone Game?
Here's how you can play the Gartic Phone Game:
Go to Gartic Phone's website.
Play as an anonymous player without signing in or log in using Discord or Twitch account.
Now select the number of players you want in a game.
Choose any game mode or make a custom mode.
Click on the invite option to copy your game's id and send it to your friends.
After they have joined, click on Start.
If you want to play with more people you should join the Gartic Phone Discord server.
How many modes are there in the Gartic Phone Game?
There are a total of thirteen game modes in Gartic Phone:
Normal
Knock-off
Secret
Animation
Icebreaker
Score
No rush
Speedrun
Sandwich
Crowd
Movie 
Solo
Each game modes of Gartic Phone have unique things to do and settings. Each mode has its own rules that you need to follow.
Want more games like Gartic Phone? See the list of ten Legendary .iO Games.
Custom Mode: How can you make changes in the game modes?
What is the custom mode in the Gartic Phone Game? The custom mode is where you can change the settings of the standard game mode. For example, if you want to make changes in the Secret mode, you have to first select the game mode, and then click on the Settings option over it. After doing so, you can change the settings of that particular game mode.
Does Gartic Phone have points? 
Yes, Gartic Phone has points in every mode, but you have to manually turn the option on before starting the game. You can do so by selecting the game mode, clicking on Settings, and changing the Scoreboard option from OFF to ON.
Fun Fact: There are a total of 45 Avatars in Gartic Phone that you can choose from.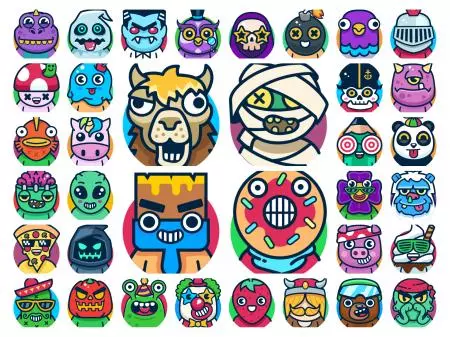 What can you play Gartic Phone on
You can play the Gartic Phone game on:
PC (Windows, Mac, Linux)
Mobile
Gartic Phone is a browser-based online game that gamers can play from desktops (PC) and their mobile phones as well.
How to stream Gartic Phone Live (Set up Stream)
You can stream the Gartic Phone game and play live with your audience without even downloading the game. Here is how to do it:
Sign in.
Allow the required access.
Select the game screen and add your camera.
Go Live!
The Gartic Phone game was introduced by Onrizon in December 2020 and has proven to be a magnificent success since then. The developers have made tons of games, and thousands of people regularly play and stream their games. The games are spectacular where you don't even have to sign up if you don't want to.
These games are fun and help the streamer and viewer bond. With easy setup and all, one can simply enjoy the game with each other. Moreover, you don't even have to download the game, which is a big bonus.