Having several Gmail accounts and not knowing how to access one without losing the other might be difficult, but this tutorial can assist. Numerous user accounts are supported by Gmail, which means you may use multiple accounts on the same device. App and browser versions are supported. On top of that, you may switch between the accounts while you're on the road. But the Gmail login different user feature does not alter your default account. Logins to the same account are not affected by how many times the device is accessed. Learn how to use a different Gmail account to log into Gmail while keeping your current Gmail session active.
Read More: 3 Simple Ways to Enable Google Dark Mode Windows 10
Gmail login different user: Desktop & Mobile
How to use a different account to access Gmail on your mobile phone
When using a smartphone, the official Google app is the most convenient method to access Gmail from another account. Almost all Android smartphones come pre-installed with the Gmail app, while iPhone users may get it through the App Store. Here is how to use a different Gmail account to access by logging in Gmail on your mobile phone:
Open the Gmail app.
To login as a different user add another account by selecting the circular profile symbol in the upper right corner of your screen.
You'll get multiple options to log in to your email like Yahoo, Outlook, Google, and more.
Please then enter your Email address and password in the following fields.
Press Next, and you'll get logged in!
Gmail will now have you signed in as several users. A second Gmail account may be created by following the same instructions. Using the procedures listed below, you may go to the account's Gmail app if you aren't instantly redirected.
How to use a different Gmail account to access Gmail on a computer
On the desktop, you may use any browser to access Gmail with a different account. As long as your prior session is still active, you'll be able to access your Gmail inbox right away. Sign in to Gmail or another Google service if you don't already have an account with them.
Here is how to use a different Gmail account to access Gmail on your desktop:
Tap on the profile icon to add a new user account to your list.
Select 'Add another account.'
Once you've entered your e-mail address or phone number, click the 'Next' button and enter your password.
After clicking "Next," you'll be able to log into your account.
Desktop users may use the above instructions to move between accounts. To keep track of several Gmail accounts, the browser lets you open them in separate tabs.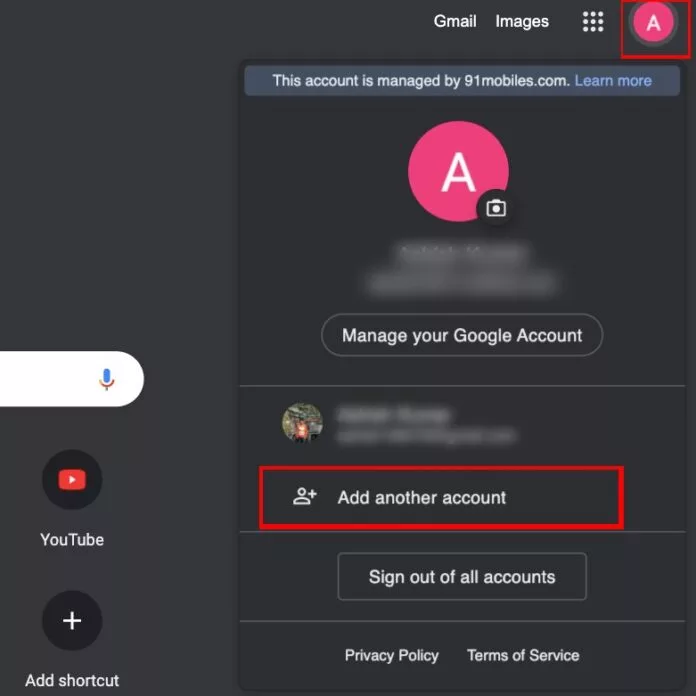 Temporary Gmail Login on a Device
The above-stated methods are best if you want to permanently log in to a device. However, on public devices, one might not want to log in permanently as it is a security threat. But don't worry as we have a way you can login to your Gmail account temporarily. Here is how to do it:
Open any browser like Google, Firefox, etc.
Open Incognito Mode.
Go to Gmail Login Page.
Login to your account.
Simply close the browser after you are done!
Read More: Hide your Google Activity!
Changing your Gmail account's main email address
The Default Gmail account is the one you use to sign in to Gmail the first time. "Sign out of all accounts" on the device if you wish to change your default account. Go to Gmail.com and log in with the Gmail account you wish to use as the main or default Gmail account.
How to use a different Gmail account for different purposes
Tap on the profile icon in the upper right corner to pick the Gmail account whose emails you want to access once you have successfully signed in to your Gmail accounts. If you don't want to deal with the trouble of switching Gmail accounts, you can consolidate your inboxes. After tapping on the hamburger symbol, pick the option to see all of your incoming messages.