With games like Battlefield and Call of Duty making their way to mobile, we all gamers would like to know how to redeem Steam codes. These codes offer a variety of benefits, but we have to redeem them as soon as possible because they expire very soon.
If you need to redeem a game or wallet code while on the go but don't know-how, you may have spent a lot of time looking through the Steam app. Now you don't have to look any further because we have the answers. Whether you need to activate a Steam wallet code or a game code, you can use this guide to do so from anywhere.
Redeem Steam Codes Through Web Browser (Mobile & PC)
We know that you want to redeem a game key right now. If you want to redeem a game key, you can't do so through the mobile application; in fact, you can't use Steam's mobile app for any codes at all. Instead, you'll use your mobile browser to log into Steam and redeem the code online. Here's how you can redeem Steam code on mobile and PC:
Now Sign in to Steam your account.
Enter the redeem code.
That's it. You have successfully redeemed your code!
It's frustrating that you can't currently redeem a game through the Steam app on mobile. However, Valve might add that feature in the future.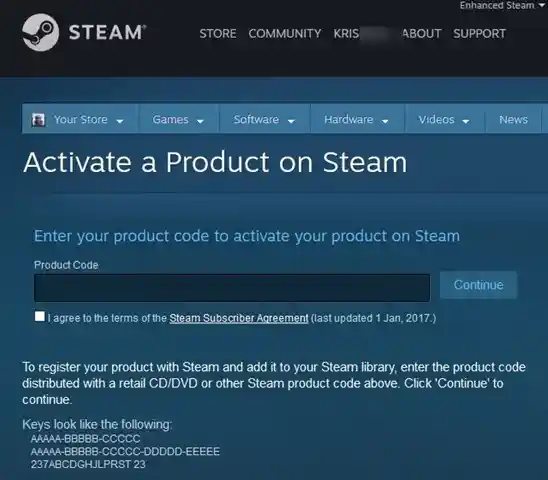 Redeem Steam Codes Through its App on PC
Step 1: Add Game to Steam
To begin, sign in to your Steam account. After you've logged in, look for a button in the bottom left-hand corner of the Steam window that says "+ Add a Game," and click it. Include the game in Steam.
Step 2: Activate the Game
When you click the "+Add a Game" button, a pop-up menu will appear with three options. You should see a tab labeled "Activate a Product on Steam." Click this tab to activate a game on Steam.
Step 3: Register Your Game
It is the start of the registration/activation procedure. The first window informs you that you will need a product key to proceed with the process; click next. Following that, you must accept the Steam Subscriber Agreement rules. You can read if you want, or simply click next to proceed with the process.
The next window is where you will paste the code for your game. Copy and paste the entire code into the box that appears, then click Next. The following window will inform you that the process was successful. If you don't see the next image at this point, something went wrong during the activation process. You'll have to start over.
Step 4: Download The Game
After you click Finish, you will be presented with a series of windows containing game-related information. Once you've read the information, click next until you reach the download screen. It marks the beginning of the download process. All that remains is for you to wait for your game to download and install. Following that, you will be allowed to play!
That is our approach for activating a game code via Steam. It is by far the most straightforward approach. It is, however, not the only technique. If you are still unable to activate your game for any reason, please leave a comment in the area below and we will gladly explain how to activate your game in different methods.